BROWARD FLAG HOME PAGE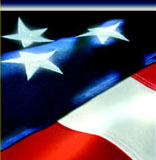 MILITARY FLAGS
FLAGS - LAPEL PINS - DECALS - BUMPER STICKERS - SERVICE FLAGS
All of our Armed Forces and POW/MIA flags are made of 100% durable Nylon. Dyed in brilliant colors, heading and
grommets and multiple rows of stitching. Indoor flags have pole hem, leather tabs and are finished with gold fringe.

Please click on a flag below to see size availability, price and to place your order.
Broward Flag carries a large selection of military flags. We carry top-quality Army flags, Navy flags, Air Force flags, Marines flags,
Coast Guard flags, POW-MIA flags and veterans commemorative flags.
SERVICE FLAGS & BANNERS

To be displayed by immediate family members of a person serving in the Armed Forces during a period of war. The person in the Service does not need to be overseas in order for his or her family to display the banner. Businesses and Organizations who have members in the Armed Forces may also display the banner.

Banner, 8" x 15"
Nylon with Crossbar, gold cord and tassel
$14.95

Flag, 3 ft. x 5 ft.
Nylon with heading and
grommets
$29.90
MILITARY LAPEL PINS - Glossy enamel lapel pins with metal back (sold 2 per pack)
MILITARY PRISMATIC MILITARY SEAL DECALS
Our prismatic military seal decals measure 3" diameter and are sold (2) per pack.
MILITARY GLOSSY STANDARD FLAG DECALS
Our glossy standard flag decals measure 2.5" x 4" and are sold (3) per pack.
DECORATIVE MILITARY WINDSOCKS
Broward Flag carries flags made by Annin, the nation's oldest flag maker. The American flag has been a national symbol of pride, unity and strength and we believe that an American flag should be made in America by Americans.

Broward Flag supplies American flags and flagpoles to all branches of the U.S. armed forces, major corporations, small businesses, veterans, schools, retail stores and patriotic families. Broward Flag also provides state flags, international flags, military flags, historic flags, college flags,NFL flags, pennants and nautical flags. Broward Flag also carries patriotic gifts and patriotic decorations.
Broward Flag & Display Company
527 McDowell Street
Asheville, NC 28803
828-258-9295 • 1-800-476-FLAG (3524)
Fax 828-258-3388
Email: browardd@aol.com
Privacy Statement
http://browardflag.com


Copyright © 1976-, Broward Flag & Display Co. All rights reserved
Information submitted by Broward Flag & Display Co. on the internet is believed to be accurate and reliable at the time of submission. Broward Flag & Display Co. reserves the right to make changes in prices, products, and specifications without notice. All trade names/trademarks are the properties of their respective owners. All other product names and logos are trademarks of their respective owners.